Next Class: Thursday, July 27th @ 10 AM at Hearing Solutions, Norwood office
New User 101
Attending a new user class is a great way for new and existing users of hearing aids to ask questions and get additional support while adjusting to your new instruments. Experienced users are also encouraged to attend in order to share their knowledge.
IPhone Connectivity Bootcamp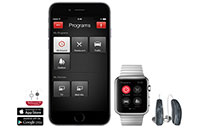 Smart Hearing™ aid technology and hearing aid connectivity have ushered in a new era of opportunity. If you have a ReSound Smart Hearing aid, you can use the ReSound Smart™ app to tailor your hearing experience. Easily. Discreetly. And straight from your phone. This means your hearing aids can connect with your iPhone, iPad, iPod touch, Apple Watch and other smartphones to make your hearing aids work like wireless stereo headphones.
Learn How To:
Stream/listen from virtually any sound source: phonecalls, music, audiobooks, facetime, turn by turn directions and much more, directly into your hearing aids.